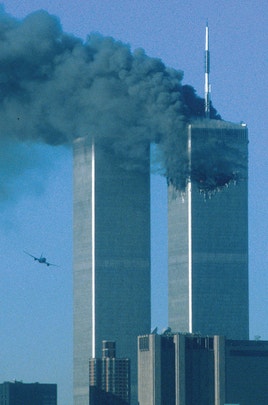 United Airlines plane heads for the south tower of the World Trade Center
September 11 terrorist attacks, also called 9/11, were the worst acts of terrorism ever carried out against the United States. On Tuesday, Sept. 11, 2001, terrorists hijacked four commercial jetliners and crashed two of them into the twin towers of the World Trade Center in New York City, and one into the Pentagon Building near Washington, D.C. Hijackers crashed the fourth jet in a Pennsylvania field to prevent it from being reclaimed by passengers. The attacks killed about 3,000 people, including the 19 hijackers.
The U.S. government linked the attacks to al-Qa`ida (also spelled al-Qaeda), an Islamic extremist group founded by the Saudi-born millionaire Osama bin Laden. Bin Laden had previously issued a fatwa (religious edict) calling for Muslims to kill Americans, and al-Qa`ida—which means the base in Arabic—had targeted U.S. interests on several occasions. It attacked U.S. military housing in Saudi Arabia in 1996, U.S. embassies in Kenya and Tanzania in 1998, and the U.S. Navy warship Cole in Yemen in 2000. Al-Qa`ida sought to drive U.S. forces from Saudi Arabia—home to Mecca and Medina, the holy cities of Islam—and from other parts of the Persian Gulf region. Many scholars believe that the group hoped to unite the Islamic world against the United States and its allies and to establish a worldwide society of Muslims governed by Shari`ah (strict Islamic law). The Taliban regime of Afghanistan hosted al-Qa`ida from 1996 until the overthrow of the regime in 2001.
Shortly after the 9/11 attacks, U.S. President George W. Bush addressed a joint session of Congress to declare a "global war on terrorism." In the nationally televised speech, Bush stated that the United States would target terrorist organizations and any government that harbored or supported them. In keeping with this policy, the United States launched a military campaign against the Taliban in Afghanistan. The support of U.S. forces enabled an alliance of Afghan rebel groups to overthrow the Taliban in December 2001. Numerous members of al-Qa`ida were captured or killed during the fighting in Afghanistan. However, many others, including bin Laden, escaped across the border to a largely ungoverned region of neighboring Pakistan.
The 9/11 attacks have had a powerful impact on the government policies of the United States and many other countries. Counterterrorism measures (efforts to fight terrorism) have become a top priority worldwide. In 2002, the U.S. government established a new executive department, the Department of Homeland Security, to coordinate efforts to prepare for, detect, respond to, and recover from terrorist activity. The government also took steps to improve security in airports and on airplanes, to increase the power of law enforcement, to address security threats from abroad, and to strengthen the nation'sintelligence (information-gathering) services.